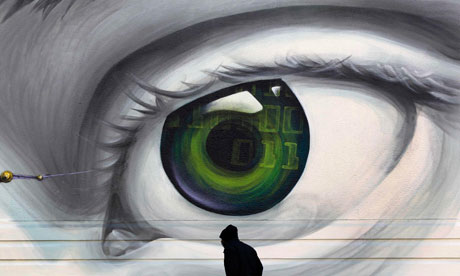 Yet like all empires, this one has bred its own antibodies. The American (or Anglo-American?) surveillance industry has grown so big by exploiting laws to combat terrorism that it is as impossible to manage internally as it is to control externally. It cannot sustain its own security. Some two million people were reported to have had access to the WikiLeaks material disseminated by Bradley Manning from his Baghdad cell. Snowden himself was a mere employee of a subcontractor to the NSA, yet had full access to its data. The thousands, millions, billions of messages now being devoured daily by US data storage centres may be beyond the dreams of Space Odyssey's HAL 9000. But even HAL proved vulnerable to human morality. Manning and Snowden cannot have been the only US officials to have pondered blowing a whistle on data abuse. There must be hundreds more waiting in the wings – and always will be.
There is clearly a case for prior censorship of some matters of national security. A state secret once revealed cannot be later rectified by a mere denial. Yet the parliamentary and legal institutions for deciding these secrets are plainly no longer fit for purpose. They are treated by the services they supposedly supervise with falsehoods and contempt. In America, the constitution protects the press from pre-publication censorship, leaving those who reveal state secrets to the mercy of the courts and the judgment of public debate – hence the Putinesque treatment of Manning and Snowden. But at least Congress has put the US director of national intelligence, James Clapper, under severe pressure. Even President Barack Obama has welcomed the debate and accepted that the Patriot Act may need revision.
Those who question the primacy of the "mainstream" media in the digital age should note that it has been two traditional newspapers, in London and Washington, that have researched, co-ordinated and edited the Snowden revelations. They have even held back material that the NSA and GCHQ had proved unable to protect. No blog, Twitter or Facebook campaign has the resources or the clout to confront the power of the state.
The war between state power and those holding it to account needs constant refreshment. As Snowden shows, the whistleblowers and hacktivists can win the occasional skirmish. But it remains worrying that many otherwise liberal-minded Britons seem reluctant to take seriously the abuses revealed in the nature and growth of state surveillance. The arrogance of this abuse is now widespread. The same police force that harassed Miranda for nine hours at Heathrow is the one recently revealed as using surveillance to blackmail Lawrence family supporters and draw up lists of trouble-makers to hand over to private contractors. We can see where this leads.
I hesitate to draw parallels with history, but I wonder how those now running the surveillance state – and their appeasers – would have behaved under the totalitarian regimes of the 20th century. We hear today so many phrases we have heard before. The innocent have nothing to fear. Our critics merely comfort the enemy. You cannot be too safe. Loyalty is all. As one official said in wielding his legal stick over the Guardian: "You have had your debate. There's no need to write any more."
Yes, there bloody well is.