Pat Stonewall
Venture Media Reports

The League of the Infamous Pink compels you!

Think you have what it takes to keep up with the chic couture of the financial elite? Think again. The unique online clothing store
DubstepLife
has recently added to their inventory a T-shirt listed with a price tag of a whopping $1,031. No, you did not misread.
Of course, for anyone brazen enough to clothe themselves in such fiscally haphazard threads, it is expected that they will experience a healthy dose of snickering from behind their backs courtesy of the jealous hierarchical inferior, but DubstepLife is already one step ahead. The phrase
"Money is no object"
graces the shirt's reverse, rubbing it in the faces of all who dare to gawk as the wearer strolls off into the gossamer sunset of the 1%, leaving the rest of us to gaze on in envy.

"The Infamous $1,000 Pink Shirt" currently available on DubstepLife for the hefty sum of $1,031

It is safe to assume that you are likely sitting at your desk in slack-jawed disbelief at this very moment, wondering who on the face of the Earth would ever purchase such a seemingly ridiculous article of clothing... Right? Enter computer software engineer Neil Cottington.
"The shirt is actually quite a work of artistic genius," he informs our panel of underpaid journalists. "It lets you show the world that there are more important things in your life than money while simultaneously flaunting the wealth that you do have in a humorous, satirical way."
Jay Z sporting his $1,000 shirt
on the streets of New York City
Cottington was among the first buyers of the shirt, noting its appearance on Zazzle.com's clothing outlet DubstepLife as a turning point for his outlook on life with his newly-acquired fortune.
"I was going through an existential crisis of sorts. I went from being basically broke to making tons of money in a very short period of time as my career started to take off," he recounts. "It was thrilling but at the same time rather frightening. I didn't know who I was anymore and I didn't know how I was expected to act... Then one day I came across that shirt online and in an instant, it all became crystal clear. I bought one immediately."
The shirt has also gained a reputation amongst multimillionaire hip hop moguls including Kanye West, Jay Z and P Diddy. It has even been reported that Justin Bieber had received an "Infamous" shirt of his own as a birthday gift from his friend and mentor Usher.
The electronic dance music community has bore witness to a very pink (and clearly very rich) Deadmau5 donning the shirt at a recent festival in Las Vegas, complete with matching pink dollar-sign mouse head.
Iconic radio personality and
America's Got Talent
judge Howard Stern even made a jive on the show about how he had been contemplating a purchase, to the reception of thunderous applause.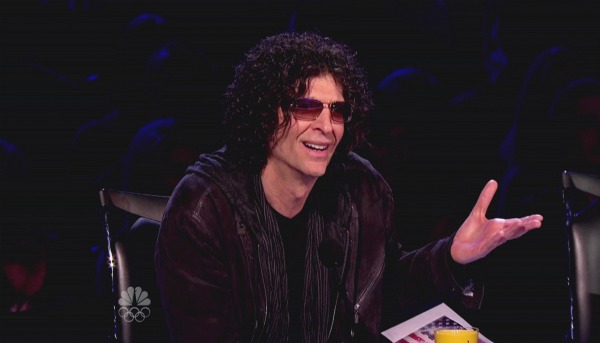 Howard Stern references the "Infamous $1,000 Pink Shirt" in a wisecrack
comment on America's Got Talent
Though the "Infamous $1,000 Pink Shirt" is becoming a popular novelty among the upper echelons of society, there are a number of "average joes" who aren't quite as enthusiastic about the product.
Sam Hivermeyer of Bridgeport, OR states, "I think the whole idea is stupid and wasteful. You can find much better things to spend your money on. What about donating it instead?"
Ruth-Anne McKinsey of Tampa, FL reports via Twitter: "$1,000 for a f***ing shirt? Stay classy, America #PinkShirt #YeaRight".
While the shirt continues to stir up a noteworthy amount of buzz online, DubstepLife have taken it upon themselves to provide a genuine disclaimer for anyone considering making the rite of passage into the League of the Infamous Pink. According to the website, the shirt is "...INTENDED FOR ONLY THE ELITE AND FINANCIALLY-SOUND." They proceed to admonish, in stern words of full caps lock, "WE TAKE NO RESPONSIBILITY FOR RECKLESS SPENDING. IF YOU CANNOT AFFORD THIS SHIRT, PLEASE DO NOT BUY IT."
While many of us struggle to save just enough cash for an imitation designer handbag or a semi-realistic Armani knockoff, the financial elite casually dish out a handful of pocket change that likely amounts to more than our weekly paychecks, simply to dress in a pink T-shirt.
But not just any T-shirt. This one is pure "Infamous," topped off with a healthy dose of "exclusive." They buy them for no reason other than the fact that they can.
But mostly because you can't.

Enjoy this article? Like us on Facebook to keep up with latest news and updates: